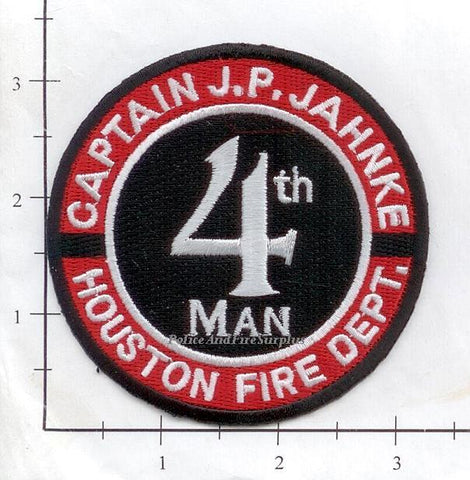 Texas - Houston Fire Dept Captain J P Jahnke Patch
Captain Jahnke, who died Oct. 13 2001, was battling a high-rise fire with only three on most of the apparatus.
Some say if Jahnke had the extra men with him that day, he might have survived.

- High Quality.
- Fully Embroidered.
- patch is in New Condition for collection purposes only.
- Not a badge and does not give any authority.
NEVER FORGOTTEN: October 13, 2001
Houston Fire Department, Texas
Captain Jay Paul Jahnke Fire House 2 "B" Shift
Captain Jahnke and his engine company were dispatched to a report of a fire in a 40-story residential high-rise. Upon their arrival, Captain Jahnke reported a working fire on the fifth floor of the building and requested a second alarm. While Captain Jahnke's driver attached lines to the building's fire department connection, Captain Jahnke and his firefighter climbed the stairs to the fire floor.
Upon their arrival on the fire floor, Captain Jahnke and his firefighter were joined by the captain and firefighter from a ladder company. The four firefighters entered the fire occupancy and began to apply water to the fire. The two firefighters ran low on air and exited to change their cylinders, leaving the two captains to fight the fire. When the firefighters opened the stairway door to exit, conditions in the fire occupancy worsened dramatically. The captains decided to leave the apartment by following their hoseline but soon became separated.
Captain Jahnke became separated from the line and disoriented. The other captain was found in the stairwell by other firefighters and removed from the building. Captain Jahnke called for help on his portable radio. Firefighters responding to his request were guided to his location by the sound of his PASS device. Despite their efforts, Captain Jahnke died of asphyxiation due to smoke inhalation.
There are a number of Jahnke's that serve the Houston Fire Department. The department's training academy is named for Captain Jahnke's uncle. Captain Jahnke was a highly respected officer, who was part of the Houston Medical Strike Team, Swift Water Rescue, and Haz Mat Certified. He also served as the Chief Safety Officer with Cy-Creek Volunteer Fire Department.
A full report on Captain Jahnke's death may be downloaded from the Houston Fire Department:
---
We Also Recommend